Adventures of a Sage—Photography as a Lens for Self-Discovery
Tag: Photo Philosophy
My previous journal entry encouraged you to understand what motivates you to shoot, the difference between pros and hobbyists, and the process of defining your shooting style. The next question then becomes: what to shoot? Given that, as a hobbyist, your travel budget likely doesn't include Katmandu, Iceland, and Buenos Aires, finding interesting subject material is a bit more difficult when you live in Backhoe, Humdrum, or Just Passing Through. (All locations where I have lived.)
Build & Maintain a Location Wish List
Shooting day rolls around, you grab your camera, and now what? To avoid having the time, motivation, a tank full of gas, and nowhere to go, I try to dedicate specific time to create, maintain, and evolve my location wish list. Your ability to visit each circle below depends on your time, budget, resources, and—most importantly—if your wife will let you out of the house:
Location Wish List Planning
Working from the inside out:
My local target list is Southwest Florida, where I live.
My regional target is Miami and Florida's southeast coast. Miami is 150-miles with a drive time of 2-1/2 hours each way. A very long day, which I have done, but preferably an overnight.
I think of national locations as aspirational, planned vacations or perhaps visits with distant friends—where you can move in for several months at a time. (Hosts, you know who you are.) For these gigs, I have found it's best to show up unannounced during a significant event like a wedding. No one will notice.
International trips are highly inspirational and may only occur once a year or every few years.
Covid-19 has obviously crimped everyone's travel. As I write this, life is slowly starting to get back to normal with more people getting vaccinated. I am therefore cautiously starting to think about traveling again sometime in the year 3000.
While I try to allocate specific time to work on my concentric destination circles, I often find myself thinking about destinations subconsciously. Inspiration can come from anywhere: a magazine article, a Netflix series, travel tips from your friends, scenes from Gilligan's Island.
When inspiration strikes, write it down. The following tip is very important: capture your idea on whatever surface you have available at the moment. Because my wife Rebecca became annoyed with all the pen notes I was making on her forearm, I now carry a Samsung Galaxy Note phone. When you pull the stylus from the bottom of the phone, the Samsung Notes app automatically opens. Notes sync to the cloud. Samsung Notes also has a free version of the app available in the Microsoft Store, giving you access to your notes on every Windows device as well. Very handy for field notes and less prone to ink poisoning. (Bekki only passed out once.)
Create a Shot Plan
Now that you are building a destination list, how do you determine what to shoot when you have arrived? Bob Krist, a travel photographer for National Geographic and National Geographic Traveler, has created an excellent travel photography course on The Great Courses. Bob recommends doing extensive research using the following guidelines (which I have abridged below):
Geography—What does location look like?

Cities (skylines, neighborhoods, & street scenes)

Country & landscapes

Aerials

People

Everyday life: locals, people at work, tourists

Culture

How does the culture reveal itself visually?

Street entertainers

People at museums

Festivals & special events

Sports & recreation

Wildlife

Lifestyle

Natural resources

History
Using this outline can generate a lot of potential subject material for your Shot Plan.
Deciding What NOT to Shoot
A quick aside: When you define what to shoot, it's as important to decide what NOT to shoot. For example, I don't shoot wildlife. I think most wildlife photographers are (in the same category as rock climbers—you know who you are) generally speaking, not well-adjusted people bordering on insane. They carry heavy, expensive glass through mud, swamps, and jungles. They sit for days at a time in swarms of no-see-ums and mosquitoes without food and water to capture once-in-a-lifetime shots of a Guatemalan quetzal or a juvenile cross-eyed aardvark. Whenever I find myself thinking of shooting wildlife, I consciously stop, pause, and make a note on Rebecca's forearm. Wildlife photography specialists are significantly better than I am, and I don't own that kind of glass, so I don't go there.
I specifically don't shoot birds. Living in Florida, that's often a challenge. Occasionally a stray pelican will annoyingly find its way into my frame. Well then, OK, and only if it signs a release. But I don't seek them out for the reasons above.
So, I encourage you to think about what you definitively aren't going to shoot, no matter what. For me it's wildlife and birds. For you, it may be people (because you don't want to ask permission), sports (another specialty), or family reunions (because you don't actually know anyone there).
Scouting the Location: Do the Research
By now you have thought about your locations, and hopefully you have created a shot plan. Now, finally, you're ready to grab your camera and shoot. 
Not so fast. Before you grab the camera there's more work to be done that will help you prepare and optimize your time at the scene: scouting the location. If you have time, visit the location prior to your actual shoot. Scope out the setting. Walk around. Check possible angles. Are there street signs that block the view? Did you notice Suds-R-Us coin laundry in the background? How can you crop the trash can out of the foreground of the Mount Rushmore panorama? 
Even better if you can scout during the same time of day with similar lighting conditions that you envision. Where does the light and shadow fall? Is there too much contrast with the midday sun? Can you compensate? 
While scouting, use your smart phone camera to take concept shots. Try wide, medium, and zoomed variations. No way will these images equal your nice glass. But you will gain insights and find potential problems from the smartphone concept shots that will help you hone your planning. 
Don't try to view your phone concept images on the street or in the field. Wait until you return home to view in optimal lighting conditions. Even better, transfer your test shots to your PC where you can see more detail.
Virtual Scouting
When you're planning a shoot in a distant location it's obviously not feasible to scout the location in advance. Unless you have your own private jet, the next best alternative are the many virtual tools that exist on the net which enable virtual scouting.
According to bankmycell.com (I have no idea what that means) as of March, 2021, there are 3.8 billion smartphones in use worldwide (the top three countries being China, India, and the U.S.). Various sources have estimated that over 1.4 trillion images were taken during 2020. Some additional interesting facts from this source: 
"If you took one photo every second, it would take you over 45,544 years to snap the number of photos humans will take in 2020."

"If you had 1.4 trillion kids standing on each other's shoulders, they would extend well past Saturn."
I have always been interested in finding an affordable way to get to Saturn, so I think they're onto something here. (Please email sage@buhlphoto.com if you would like to volunteer your child.)
I digress. The point is that if you think you're going to capture images that no one else has taken (excluding the crack in your bathtub that looks like the Mona Lisa's smile, and last year's shot of your purple thumb after hitting it with the hammer) … fogetta bout it.
But those trillions of photos can work to your advantage, because you can research numerous photo-sharing sites to see what images others have already captured at your intended destination. Pinterest, Instagram, Flickr, PhotoBucket, to name a few. Occasionally, latitude and longitude coordinates are included in the image metadata. In that case, you can even pinpoint where the photographer stood.
Granted, most of these shots are as interesting as your purple thumb. But a few images here and there are taken by people who actually know what they're doing, and those images can provide you with ideas and perhaps even inspiration.
Google Earth may be the most amazing resource on the planet. If you're not familiar with it, this software gives you a scrollable, 3D view of virtually anywhere on the globe by compositing satellite photographs and overlaying GIS data. It enables you to see cities and landscapes from multiple angles. If you have ever dreamed about flying, this is as close as you can get (until marijuana is legalized in your state).
The pros: You can save locations on the globe where you can easily return for future research and flyovers.
The cons: Google will track your every move. Trying to find your ex-girlfriend's house—you know, the one that has the restraining order against you? They know.
You can download desktop and mobile versions of the Google Earth app here.
Here's another amazing resource that you probably already know about.
The pros: Google Street View gives you virtual sneakers on the ground to scout your shots.
The cons: Again, Google will track your every move. You will start to see coupons from Suds-R-Us.
This is a great tool to research access and angles in distant cities. I have used Google Street View to figure out where I could get water access in Miami. (In most cases, the answer is 'nowhere.') 
Here's how it works. Find your intended location in Google Maps. In the example below, I am researching Dodge Island in Miami. Connect the dots in the correct sequence below:
Use Google Street View to Scout Locations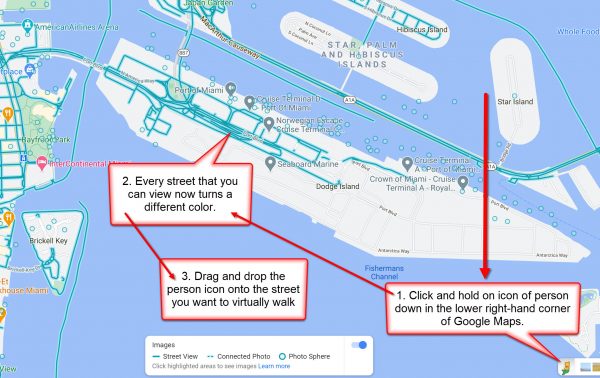 The above actions transport you to street view. When you are in street view, drag the mouse around to change your angle of view. When you're looking up or down a street, large directional arrows appear. Click on the directional arrow to move around.
Click on Directional Arrows to Move Around in Google Street View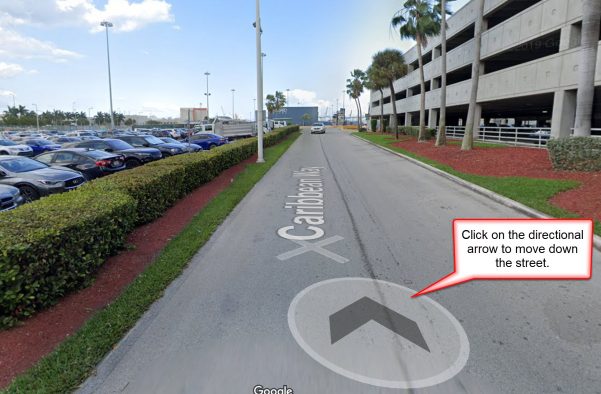 You now have virtual sneakers on the ground. Not all streets have been mapped everywhere. But you'll be surprised at what's available.
Thank you for spending time with me today. I look forward to your comments below.

Feel free to forward this journal to others who may be interested.
Challenges
Schedule time each week to work on your location wish list. What does your location list reveal about your inner self?

For local destinations scout the location in person.

Experiment with online tools to scout distant locations.
Questions
What other virtual scouting tools are you aware of?

How do you determine what to shoot?

What do you see today?
Up Next
0004 How Haight-Ashbury Inspired the First Montreux Jazz Poster in 1968.