Adventures of a Sage—Photography as a Lens for Self-Discovery
Tag: Guest article
Our first contribution to the Journal follows below from Roger Bornand, of Montreux, Switzerland. Roger and I have known each other since 1967. He and a friend stayed with us at our home in Crystal Lake, Illinois, for several days at the start of their grand tour of the U.S. Roger was 25, and I was 14. I still remember the beef fondue dinner they prepared for us with many colorful sauces.
My father, Otto, helped them buy an inexpensive used 1942 Plymouth which became their U.S. tour bus. It was a 25-year-old clunker. I recall Roger telling me that the floorboard was rusted through, and that they could see the road speedily flying underneath their feet just inches away.
Experiencing the vastness of the U.S. and the creative energy of San Francisco in the 60s inspired Roger, upon his return to Switzerland, to create Bornand + Gaang—an advertising agency in Montreux. Although Roger is now retired, the agency still serves clients throughout Europe. Their website is: www.bgcom.ch/en/
A side note: Visiting Roger in Montreux with my parents in the late 60s subsequently inspired me to start my own career in advertising. After grad school at Northwestern I worked for Leo Burnett USA and Needham, Harper & Steers (now DDB Needham) in Chicago, on accounts such as General Mills, Pillsbury, Wrigley, and McDonalds. Thank you for the inspiration Roger!
While, Roger's contribution below isn't related to photography, per se, it's a wonderful story about how his U.S. adventure, his visit to San Francisco, and the then-active Flower Power movement, led to the first poster ever created for the Montreux Jazz Festival.
The First Montreux Jazz Festival Poster, 1968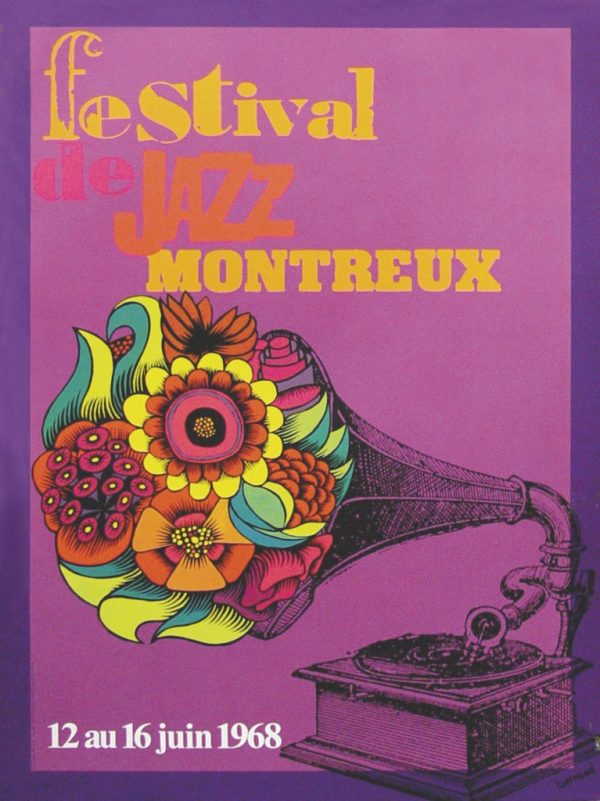 Roger's Story
I had just returned from the USA where I had traveled 30,000 miles, visiting 38 states.
I was most impressed by California, and more specifically San Francisco. There, everything seemed to be allowed; and the "little" Swiss that I was, was very impressed. I was in the middle of "Flower Power."
This freedom and creativity had a profound effect on me. After I returned to Montreux, Claude Nobs (the founder of the Montreux Jazz Festival) asked me to do a poster for the 1968 festival. The idea came to me spontaneously: the music blooming in a floral bouquet in the style of what I had experienced in the Haight-Ashbury district, where the colorful graphics acted as a symbol of passive resistance and nonviolence. The concept was rooted in the hippies' opposition movement to the Vietnam war.
That's how this poster was born.
Roger, thank you for sharing that wonderful history. Please add comments for Roger below.