Adventures of a Sage—Photography as a Lens for Self-Discovery
Tag: Interview
Introduction
Today's article features an interview with Gary L. Friedman. Gary is a professional photographer whose photography and writings have been published in magazines, newspapers, and books internationally. He writes technical how-to books about many different cameras, all of which are available on his website www.FriedmanArchives.com where you can purchase his books either in three different digital formats for download, or order printed hardcopies. In addition to giving hundreds of photography seminars throughout the world, Gary is also associate editor of CameraCraft magazine, published in the UK. Prior to becoming a professional photographer, Gary was a rocket scientist for NASA's Jet Propulsion Laboratory in California. You can read Gary's full biography here.
I have read several of Gary's camera books, which are wonderful in-depth resources for understanding not only what's in all those nested camera menus, but how to take advantage of those features for getting the most out of each particular camera. I am a fan of Gary's writing style because he actually weaves humor into his tech writing, whereas most of his competitor's books are just so … boringly dry.
In this interview Gary provides insights and perspectives about his past and current projects, as well as his thoughts about where photography has been, how it's evolving, and where it's headed. I think you'll find Gary's insights, based on his many years of experience, interesting and thoughtful. I learned about several new photography websites that I didn't know about prior to the interview. His philosophy about using photography for storytelling gives photographers today a unique approach to shooting in a world oversaturated with stunning images. His work for Photographers Without Borders provides examples of how he has done that in Vietnam, with additional forays into China and the former Soviet Union.
I hope that this interview challenges your thinking about photography and how you shoot. And the many reference links may keep you going for several hours. Please let us know what you think.
Gary Friedman Looking Very Orson Wellesian
See Gary's full gallery of COVID beard self-portraits here.
The Interview
Karl: Do you have anything on your mind regarding what you would like to talk about?
Gary: Nothing in particular.  🙂
Karl: I'll set the stage by telling you a little bit about my blog and then maybe that will generate some ideas. I have shot photography since I was in high school (1968-1971). I have been shooting stock since college, and I have been represented by Danita Delimont in Seattle for over 20-years. (This link shows all of my images on Danita's website.) Three years ago, I decided to go through all my photos, curate them, and start my own website to showcase select images. Then last year I started toying with the idea about starting a photography blog. Most photography blogs are written by men who review gear. I didn't want to be just one more gear review blog, so I started thinking about "how can I write a blog that's more inclusive?" I came up with the idea of Adventures of a Sage—Photography as a Lens for Self-discovery. How does photography help you learn about yourself? What are you learning about the world and others? It's aimed at hobbyists instead of professionals.
Gary: Let me ask you about your friend who's in the travel stock business. How is her business surviving? Currently there is a real dearth in demand for that kind of thing.
Karl: Pre-Covid Danita had a lot of travel magazine business. But, of course, Covid hammered the whole travel industry and shut it down. So yes, her travel business fell off. I think that's starting to pick up again. In the interim she has branched out into wall art, calendars, and related markets. Every year, I'll go out and search the net looking for my images, and I'll find, "OMG, this company is using my images for posters!" Then I find that the images have been licensed through Danita. So, yeah, her travel business is way down and they're trying to branch into other things. She has been doing this for decades and her database is well over 1-million images representing about 50 or more photographers.
Speaking of stock, once upon a time you created you own stock photography website.
Gary: Yes, I started my own stock photography website, www.friedmanarchives.com. I don't know if you've had a chance to peruse it. I've been licensing images for 21 years now.
[Sage Note: To find categories of stock images on Friedman Archives, hover over each of the rectangular images and you'll see the category name appear. Clicking on any image will take you to a sub-gallery.]
The photography licensing market has declined steadily since then. People just steal images from the Internet now and nobody even has a budget for licensing—much less a photo editor. That's a job that seems to have disappeared completely.
There used to be a rule of thumb in the days of Kodachrome—if you were a stock photographer, you could expect to earn a dollar for every licensable image you have. If you wanted to earn $50,000 a year you needed to have 50,000 perfectly exposed Kodachrome slides.
Karl: Given that photography as a business is declining, is there still demand for commercial photographers?
Gary: Parts of that are also dwindling. The biggest opportunity I see, that is not going away, is commercial photography for advertising. Nothing sells a product like something well photographed. Even demand for wedding photographers is declining because nobody understands their value. "My son has a Canon Rebel. He can shoot your wedding for much cheaper than your professional wedding photographer can." Consequently, every other type of photography other than commercial advertising is kind of going downhill. Whatever worked in our day is less relevant.
If you look at my recent blog post titled "How to Make $$$ on Instagram," I talk about Instagram, because I have been trying to adhere to the advice of this book I read titled, "Here's how to market on Instagram for no money and only an hour a day." The advice sounded reasonable and for me it was especially appealing because I want to market my books to people who own a specific camera. Instagram is the perfect market for that because people actually hashtag the camera that they use to take the picture. My potential customers identify themselves! So, I spent a ridiculous amount of time on Instagram. But then I stopped doing it—not because the techniques were not resulting in any additional sales, although that was true. I started to become desensitized to the billions—are you a Carl Sagan fan?—billions and billions of finely over-processed Instagram pictures. The amount of gorgeously Photoshopped stuff is just mind blowing and you get desensitized to it. A good image might get an eighth of a second of my attention span. Unlike in my day, there is now a worldwide glut of over-processed, beautifully visualized images.
Is there still a market for travel photography? If there is, the location you're looking for has already been photographed. You can pull it off of Instagram. Just search the place you're looking for. Right-click and copy the image.
Karl:  When people post on Instagram does Instagram's licensing specify that somebody can lift an image? Or is it protected?
Gary: I'm not sure. But if I were to guess, I would say anyone who posts an image gives up most of their rights. If people really cared about intellectual property rights they would not be putting it out there on social media to begin with.
Karl: Now that I think about this, I recall reading an article on Fstoppers last year where a company pulled a woman's image off Instagram and then used it commercially. She tried to sue them. A court ruled that she relinquished her licensing rights by posting it on Instagram.
Gary: A year or so ago I wrote an article for Cameracraft magazine about someone who found their image use in giant wall art for sale in a housewares store. He had to mortgage his house in order to afford a lawyer to sue. He ultimately prevailed, but it wasn't a forgone conclusion.
Karl: You recently moved from California to the Boston area. How long did you live in California?
Gary:  All my life.
Karl:  What part of California?
Gary:  I grew up in Encino, the home of Frank Zappa and his kids Dweezil and Moon Unit.
Karl:  You're dating yourself. What prompted the move from California to the East Coast?
Gary: We were living in Huntington Beach in Southern California. At the time, nobody in that area was taking the Covid pandemic seriously. Wearing a mask was an affront to their rights. So, we got out of town because my wife and I are in the 'vulnerable' category. We decided to move. We have grand kids here in Boston, but we also left grand kids back in California.
We moved to Boston first—from a 3,200 square foot house in California to an 800 square-foot condo. That was a little too crowded. So, we moved again an hour south of Boston where prices are much more reasonable. And I'm going to build myself a dream photography studio.
Karl: You have a diverse history: from rocket scientist to photographer.
Gary: Yes, I worked for NASA's Jet Propulsion Laboratory for a decade.
Karl: How, when, and why did you morph your career from NASA's JPL to photography?
Gary: Yes. Going from a rocket scientist to photographer and musician and lecturer—it's like night and day. The years I spent at JPL were wonderful and an engineer's dream. I left because I had amassed some patents I wanted to commercialize and I couldn't do it while working at JPL. So, I left and learned how to run a business. I started an I.T. consulting firm, and grew it from one person (me) and one telephone to 22 people and $10M in revenue in 5 years. (Then it crashed and burned.)
Karl: You're also a musician? What instrument you play?
Gary:  I actually play jazz piano, but you can't take a piano backpacking or to campfires. In 1990 I discovered an obscure bamboo instrument called a Xaphoon (www.Xaphoon.com), which looks like a recorder, but (because it has a reed) sounds two octaves lower than an instrument of its size ought to sound. I fell in love with it so much that I became a distributor, and set up the Xaphoon.com website when websites were a relatively new thing.
I'd play one for you now, but I sold my last one and I'm waiting for the next batch to come.
Karl: Who makes them?
Gary: The bamboo versions were made in Hawaii by the guy who invented them, Brian Wittman. He lives off the grid on Maui I and he just chops down the bamboo as it grows wild on the island. An engineer would tell you that in order for instruments to be concert tuned you have to measure everything. Well, even though no two pieces of bamboo are alike, he doesn't measure anything. He just eyeballs it. It takes him a minute and half to concert tune a xaphoon by intuition. The guy's a genius.
Karl: So, your business has shifted to publishing now? Are you exclusively reviewing Sony cameras, or do you write about other cameras as well?
Gary: I have a great writer, Tony Phillips, who writes about the Fujifilm and Olympus mirrorless camera bodies and has the same humorous style and technical chops you said you liked about my work.
Karl: Does Tony write for you under your name?
Gary: No, he deserves full credit. I'm not Walt Disney. I just act as a publisher. Over the last 20 years my business has steadily shifted from stock photography and a little bit on the publishing side to the point where publishing now represents a larger chunk of my income.
I used to give seminars around the world before Covid. And then we have the xaphoon.com website. We ship instruments all over the world from there. Like any like any good musician, you have several different revenue streams to make ends meet. That's how the business has shifted for me.
Karl: You said that even wedding photography is declining?
Gary: Well, there were fewer weddings during Covid, but the perception problem goes deeper than that. Wedding photographers know very well how to impress their peers. In the old days they would use medium format cameras, use a low-contrast film to make sure they retain detail in the bride's white dress and the groom's black tux (film could handle a wide dynamic range subject much better than digital can without HDR). Wedding photographers know good light and good composition. They knew all the winning poses. They know how to proactively anticipate the action and have their camera settings ready.
While these things are all important to a great picture, I've found that few of these things actually register with the wedding couple. If you want proof of this, think back to how popular Kodak's wedding camera package was back in the 1990's. It was a package of 10 disposable film cameras with a fixed shutter speed and f/stop. The idea is you put one on every table at the wedding and ask your guests to pick it up and take pictures. I can't think of a formula for a worse picture quality (unless of course they take these pictures in a dark room at night—oh, wait, that's the environment where they were most used!). Yet, because these pictures fulfill the function of a snapshot (which is to jog a neuron in the viewer's brain), the families tend to relish these images on an equal level to the well-lit, well-composed professional photos.
What conclusions can we draw from this?  One take-away could be, "what's important to a wedding photographer is different from what's important to the wedding couple, and neither party is aware of this fact". This is one big reason that non-photographers don't understand why wedding photography is so expensive. Most customers think that having an expensive camera means better pictures, so what has the photographer actually done that their neighbor's teenage kid couldn't have done with the same equipment?
People now use their cell phones at weddings, and those images come out much better than the Kodak disposable wedding cameras. They don't have the beautifully posed shots, but those images are still held in equal value by the bride and the groom. Anyway, I'm a recovering wedding photographer. I took the job very seriously and I found the entire experience too stressful.
I'm thinking that the only way to really sell your value to a potential customer—and I'm banking on this thought because I'm setting up a new studio right now, is by having just awesome light that makes people say "Wow." Sometimes you get lucky with your cell phone. But in a studio environment you can light in such a way that really stands out. And so, I'm going to try starting a family portrait business in a new city where nobody knows me. I'm starting from zero.
Karl: I belong to PPA, Professional Photographers of America. I do that because they have a great deal on insurance for your gear anywhere in the world. It's $27 a month and you're covered for up to $15,000 for loss and theft, which is a great value because you can't find any coverage like that for photography gear with homeowners' insurance. You can augment the plan with additional coverage if you want to pay more on a monthly basis. That's one reason I have become a member.
PPA publishes a monthly magazine for their members. I read it because I'm always interested in looking at photography as a business. What are they saying to their members? And obviously Covid significantly hit the photography business hard and killed wedding photography in general. Then you overlay this overwhelming supply of amazing images which you mentioned. All of that has devalued professional photography. Consequently, over the past year there has been a lot of pep talk in their magazine about finding and creating your own value. Even so, the PPA magazine has a huge emphasis on wedding photography because that's how a lot of professional photographers still make a living.
So, unless you're a commercial photographer in New York, Chicago, LA, or San Francisco with Fortune 500 clients—then, OK, maybe. Otherwise, it's really tough to make a living as a photographer today.
Gary: Because I write for CameraCraft, and because I talk to a lot of different photographers, I recently had some interesting insights from a commercial photographer in the world of fashion. It's difficult to make it there. Because, even if you're really good at what you do, and even if your client is thrilled with your work, the fashion industry is always looking for "the next new look," and so they constantly churn through photographers.
Corporate customers—"I need a head shot for the quarterly report"—those guys are very consistent. You get some corporate clients that are happy with you, and they will keep using you year after year. A photographer I know lives in Austin, and he's earned a very good living doing this, finding good corporate clients. But not in the fashion world.
Karl: It makes sense to find some sort of recurring niche.
Gary:  It makes sense once somebody points it out to you. But it wasn't obvious to me until I interviewed the guy.
Karl: A quick aside here. Are you aware of Art Basel? Art Basel in Miami is one of the largest art events in the world. It's a huge event and it's all contemporary art. They hold it at the Miami Convention Center during the first week of December. They cancelled it last year (December 2020) because of Covid. They lease booth space to galleries from all over the world representing every continent. Galleries from Beijing, Rio de Janeiro, Frankfurt. I have no idea, but I'm guessing that they rent a booth for maybe for $50,000. Larger mega booths $150,000? The show attracts contemporary art buyers from all over the world. Some of the art pieces are multi-million dollars. So, if you sell one piece it's a profitable show—and it's only a three-day event. They do Thursday, Friday, Saturday, and I think they pretty much wrap on Sunday. But this has to be a $100 million art market.
Gary: In your estimation, what percentage of the art is photography? I would bet 2%.
Karl:  Yes, I would say that's about right. If that much.
Gary: And we all know that photography isn't art. [Gary is being sarcastic here.] Unless it's black and white printed on fiber-based paper, and it's printed in a dark room. Then, it's art. Ink jet doesn't count as art. In the world of art, the process is just as important as the image, you know!
Karl: Around Art Basel I have been attending an annual event sponsored by PhaseOne, the Danish medium format camera company. The event is called "Stand Out Miami." They bring in photographers that use PhaseOne cameras to discuss their work. I always go because I like to see who is making money and how they're doing it.
To your point about fashion photography, they always bring in a fashion photographer to speak at this event. Maybe there are 50 people in the audience. And of those, perhaps five of those people can afford to buy a PhaseOne camera.
[Sage Note: The PhaseOne XF camera body ranges between $38,000 – $52,000 based on a June, 2020 price reduction. Download price list here.]
In addition, how many of those people in the audience will actually ever shoot fashion photography? That would be "Zero. "
Nevertheless, they always bring a fashion photographer in. Two years ago, they brought in Yulia Gorbachenko, a fashion and beauty photographer in her twenties from New York.
Fashion & Beauty Photographer Yulia Gorbachenko
Presenting at Stand Out 2019 in Miami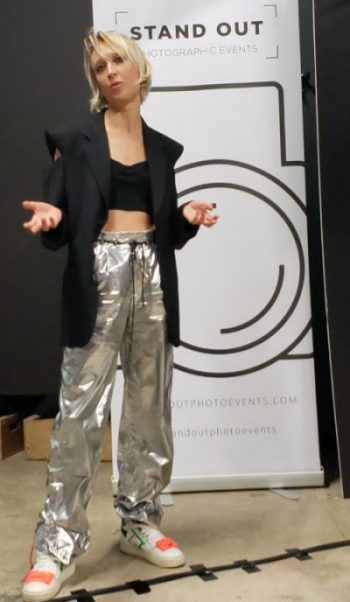 She discussed how she markets herself with a 'mood board.' She would do these mood boards were she would focus on lips, and the poster board was all shots of lips. Another mood board was about water, or whatever. She would send these concept boards out to the fashion magazines trying to get business. I think Harper's Bazaar hired her to do a fashion shoot at the Bolivian salt flats—the world's largest salt flats at an altitude of about 12,000 feet (such is the world of fashion photography). Her fashion photography from this shoot was featured on the cover and it was also the lead article. It was fascinating to see how she was able to gain recognition in the fashion marketplace.
But what I'm thinking is, you fly and truck in the models, the equipment, the assistants. How much do you get paid for that kind of shoot? $250,000? I have no idea. But how often does a fashion photographer do that kind of project? And like you said, one month you're in. The next month you're out.
Back to the real world. How is your relationship with CameraCraft magazine going?
[Sage note: CameraCraft is a professionally written, insightful, beautifully designed photography magazine based in the UK. Gorgeously published on high-quality paper, you can subscribe at the above link for £49 which, as I write this, converts to $35.55 US.]
Gary:  We're into our ninth year now. For a photo magazine in a market that's shrinking, we're still going. David Kilpatrick offers the best technical insights of any photo magazine you can read. Better than PetaPixel better than dpreview. David has experience that nobody else has.
In the original inception there was no advertising. But what's there is very insightful. I try to balance it out by propounding photographers that are doing really interesting things with their cameras.
Karl: What websites for a hobbyist audience do you like for finding ideas or seeing what's going on in photography?
Gary:  Well, I would be derelict in my duties if I didn't point out FriedmanArchives.com and the Friedman Archives Blog. Because, in every blog post I try to have a teachable moment: "Here's a problem I had. Here's the result." My audience for the blog is people who have bought my books. I get emails from them every day asking me questions. That keeps me going.
Digital Photography Review is not one that I would recommend because they don't cater to that kind of audience. They're mostly tech and mostly pixel peeping and examining your images with an electron microscope, which I don't think is relevant anymore. Pixel peeping was relevant at one time; when they first started out there was a great need for that. But now, you can't buy a bad camera. Ever. Even the cheap ones are great. Even our cell phones do a good job in good light.
PetaPixel is another good one.
There is a series of podcasts geared to the business side of photography which I think provides a wealth of information for free. It's photobizx.com. Have your readers check it out.
There is one which I actually dismiss quite a bit because I think their stuff is too elementary, but some of your readers might find it useful. It's called Picture Correct. They send something out every day—they send out tidbits where you can learn very slowly. They also have guest bloggers explaining basics.
Karl: Do you look at Fstoppers?
Gary: It's not a website that I go to every morning and say, "What's new there?" Every so often if they have an interesting article somebody will post on facebook—and I only spend two minutes a day on facebook—so if I happen to catch it I'll go to the Fstoppers website for that reason.
There was one that used to be really good and the guy died. The Luminous Landscape. That one I found to be pretty inspiring. He was pretty successful.
[Sage Note: Subsequent to my interview with Gary I discovered that Michael Reichmann was the original author of Luminous Landscape. According to the 'About' page on The Luminous Landscape site, his son, Josh Reichmann, has taken over. So, the website is still active. Their site indicates they receive over 1-million visitors every month.]
Karl: You see a lot of images on various sites that are like Game of Thrones fantasy images: A woman standing in front of a Dracula Castle. She's immaculately lit and her red silk cape is wafting out 50 feet behind her. Who's taking the time to stage and shoot this stuff? I don't know how can you possibly make any money with that kind of work. I guess it's a hobby.
Gary: That's a really good question. I find the greatest density of those kind of shots on the Instagram Godox User Group. There's also a Godox Facebook equivalent.
[Sage Note: Instagram and Facebook require that you login to your accounts to view the above links because they want to know what you had for breakfast, and where, and with whom.]
These folks really know how to use their flashes. Most members go into detail with the behind-the-scene shots. They are masterfully done. How are they making money with it? I don't know. It's just a really good hobby well-executed. There's nothing wrong with that.
Karl: As I indicated, Adventures of a Sage is all about this concept of photography for self-discovery. Any thoughts about that concept?
Gary: One of the first CameraCraft articles that I wrote was about a woman who went on a spiritual journey through her photography. Her name is Melissa Tao. I remember her very well. It was one of the more interesting articles that I have written. I can forward the information to you. I have the article on my computer.
[Sage Note: The article Gary references above is titled "Light From Within." Download a PDF of that article by clicking on the link.]
Gary:  The only philosophical thing I've been on are my recent blog posts which have been about "what's worth photographing?" because with this whole Instagram experience—as I said, I have been over-saturated and desensitized. There's a glut of really beautiful images—there's no place on this world that hasn't already been photographed. What's the point? My previous blog post gives the answer: it's storytelling. You go somewhere and you bring back a story. That's what I think photographers should be concentrating on if they want a unique angle.
I haven't done that in a long time. As soon as I feel safe getting on an airplane again, I want to do more work for Photographers Without Borders. They previously sent me to Vietnam. I thought I did some great National Geographic-quality work there. I love that kind of work.
Karl: Tell us more about Photographers Without Borders.
Gary: They hook up a story-telling photographer with an NGO (non-governmental organization). These NGO organizations try to do in their respective countries—they're like a Mother Teresa—they pay attention to the poor and the folks who are completely ignored by the government. They try to make the world a better place. They ask their photographers to do documentary photography in a photojournalism style, so the NGO can publicize their work and fundraise, and also provide a means of letting the rest of the world know of the need and the work that is being done to address that need.
Karl: Have you done many projects for them?
Gary: I have only done one so far. I was about to go on a second trip to Central America and then Covid hit. And then we moved twice. I haven't even had time to think about it since. But looking back, that's the kind of work I really like to do. It gives me the opportunity to meet people I wouldn't normally meet and to go places that I wouldn't normally get a chance to go, just because I have a camera. And it gives me the opportunity to tell the story. Thank goodness for the Internet now because you can disseminate those stories. That's the heart of it. That's what makes photography worthwhile: you get to tell a story.
Karl: Does PWB compensate you for these trips?
Gary: No, you volunteer your time and you have to pay your own expenses, including airfare. I consider it eco-tourism. It's cheaper than a conventional vacation and you get to make a difference with your photography. And, you get to make friends, many of which I still keep in touch with to this day.
Karl: How do you tell these stories? Do you do research in advance?
Gary: Always.
Karl:  Is it like a film script where you have a hero and a protagonist?
Gary: No, it's not like that. What you described sounds like reality television. "OK, there's a cast of characters and let's try to make it interesting having a conventional story structure." I never go that route.
I do my homework regarding where I'm going and what the history is. I go there, see what I see, and then I try to convey my experience so readers can live vicariously through me, meet the people that I met, and just tell their story.
Back in 2018 I had a two-part blog regarding my Vietnam trip. My approach was: Here's what I did. Here's what I learned. And what it's like to work with Photographers Without Borders.
I've done other work also. I spent six months in China. I also spent about a month in the Soviet Union back when there was a Soviet Union documenting a cultural exchange between Soviet and American high school kids during the cold war.
If you were an original subscriber to CameraCraft, that was in the very first issue. What made that trip especially challenging was that my father, my brother, and I all had government jobs with various security clearances. I worked for NASA. My father was a vice president of Northrop Corporation, and my brother worked for Northrop also. Traveling to "The Evil Empire" back then raised a few eyebrows with the State Department. "So your son's a commie, huh?" Because we were proactively transparent with the security folks, I don't think anybody's career was hindered as a result.
Karl: Let's talk about how mobile phone cameras are changing photography. Do you think cell phones, as their photo technology evolves, will eventually replace DSLRs or mirrorless cameras for professionals?
Gary: They already are for consumers. Professionals will be the last holdout. I can rephrase the question: "Do you think 8×10 view cameras are going to go away?" The answer is "no," even though DSLRs are around. There will always be some holdouts. There will always be folks that really care about quality. And there will always be folks who like to enlarge their images for gallery presentation.
Most people don't have those values. Most people don't print any more. And if they do print its 4″ x 6″ not museum size. Having said that, I have old 10-megapixel and 12-megapixel DSLRs. And I made giant poster enlargements from those and they came out great! I can easily see people making gallery prints from cell phones without worrying about pixilation.
Karl: At what size?
Gary: Big! [Gary laughs!] I can just tell you that I really have decent size enlargements from 10-megapixel cameras and they came out great. Much of it depends on what your viewing distance is. When Nikon's first digital camera came out at two megapixels, to advertise it they displayed a huge billboard in New York City. If you viewed it from a mile away, it looked great. [Karl laughs!] The only time 60-megapixel cameras really make a difference is if you're making these giant enlargements either for advertising or you have an airport walkway where people can examine your high-resolution image from inches away. That's where it matters. That doesn't describe most situations.
Karl: We have seen Olympus acquired by a Japanese private equity company because they went through three years without any profitability. What do you think that bodes for Nikon, Canon, Pentax, Panasonic, Fujifilm, or Sony?
Gary: I don't have any particularly unique insights into that. I can tell you what I think is intuitively obvious, which is that the market for their products is shrinking. So, they are changing gears. They're not catering to the average Joe anymore with Canon's Rebel series. They're pushing the high-end. And even though they're selling fewer units they're making up for it by increasing their margins, which is what I would do if I were in charge.
Surprisingly, in my life, Canon and Nikon are now trying to catch up with Sony, which was unthinkable just 10-years ago.
Karl: Sony did an end run with their mirrorless technology.
Gary: Sony has very aggressive engineers, and some of the problems they had to solve I thought were un-solvable with the E-mount. For example, Sony's E-mount always shoots with the f-stop closed down to its working position, or close to it. That way you don't need a depth-of-field preview. You can always preview for how your image is going to come out. Auto-focusing when the f-stop is very small is really difficult. I made a video about this on YouTube. If you have ever tried focusing accurately with a depth-of-field preview stopped down all the way, you know you can't do it. You have no idea how difficult this is. They did it!  [Gary's note: Because of Sony's technical advancements, the above video is now obsolete.]
Sony brought the Minolta mount as far as they possibly could. But if you're also shooting movies with the Minolta mount, for technical reasons, they always had to keep the f-stop almost all the way open. So, if you're shooting movies on a bright day, it's highly likely you'd overexpose. Noise from the in-body focusing motor would also get picked up by the microphones, another undesirable thing.
Sony's E-mount does away with all of that. They have a silent focusing motor. They have a silent f-stop motor. It was designed from the ground up for video. It was not, however designed from the ground up to be full frame—that's why the original full-frame A7 had dark corners when wide angle lenses were attached. Full-frame was an afterthought. They dealt with that brilliantly also. If I ever go to Japan, I'm going to search their engineers out, because they did an amazing job.
That's where their market is going. Fewer people will buy their cameras, and so the camera manufacturers have to make larger margins. But now, almost all of the cameras they are selling are overkill for most people.
Take the new Sony A1 for example, a camera body that sells for about $6500 USD. Its claim to fame is an almost near global shutter. You can use flash in silent shooting mode. You can do 400th of a second flash sync speed because there's no moving shutter. If you're shooting sports the algorithm for subject tracking is the best in the world. It's quite advanced for what it is. But only high-end, six sigma sports shooters will be able to take advantage of what the camera has to offer. Everybody else is just, "hey, I've got the best there is," followed by, "Here's a menu system I don't understand, so where is Gary's book?"
My demographic has shifted also. It used to be people who would buy the Canon Rebel type camera—the everyday cameras—with the vague hope of getting better pictures. "With a better camera, I should be able to shoot better photos, right?" That's why I explain about light and composition in the appendices of my books.
This mindset also drove me to create the seminars. My wife and I traveled around the world giving seminars teaching the basics in an intuitive way from the ground up.
Karl: How long have you been doing the seminar and is your target audience now evolving?
Gary: Initially, it was for beginners (although I've had experienced 30-year shooters attend and they learned a few things as well!). We've been doing the seminars since 2007. Back then people were using cameras such as the Sony Alpha 100 and the Sony Alpha 700—really good cameras in their day. They were APS-C format. People would buy these cameras and then buy my books because they wanted to know what the menu functions were. But they got frustrated because, even though they understood the camera features, they weren't happy with their pictures.
Our focus with the seminars was, "Here's what is really important: It's not your megapixels, It's not how expensive your lens is. It's not how many lines per millimeter your lens can resolve. It's none of that stuff. It's light and composition."
Better Photography According to Gary Friedman:
A Better Camera Does Not
Make You a Better Photographer
So, I spent the first day just building on that. We would have exercises for creativity and all that. Day two, I talked about the technical stuff everybody wants to know. But unless you nail down your light and composition none of that other technical stuff is going to mean anything. That's why I built that foundation first. Nobody else seems to take this approach.
We did very well with the seminars for a long time. But now the market for my books is no longer beginners, meaning my book and seminar demographics are diverging. I am thinking how to redo the seminars. What do modern DSLR photographers want to learn now? I'm tempted to go with, "Here's a full day just on wireless flash and lighting," because lighting is really important.
But, if you're on Instagram—people don't realize that lighting is a … panacea. That's not the right word I'm looking for. The way Instagram photographers think is "I only use available light because I'm a real photographer." I find that, almost exclusively, people who say that don't want to take the time to learn wireless flash. Flash is intimidating. They think it looks over-processed, over-done, and fake, which I can certainly understand. None of these people are wild about flash, but I'm thinking about that change.
[Sage Note: Access the online version of Gary's seminar here.  Cost is $150. Operators are standing by.]
Karl: Are you planning to start your live seminars again?
Gary: Let's see what the future holds. But as I mentioned, our original target audience for the seminars is now much smaller. People are now using their iPhone for photography and they're perfectly happy with their pictures because, "Wow, I've got an iPhone." Most people take snapshots, and they don't want to know how to take better pictures, so they don't seek out advice. I have an e-book on Amazon you can download for 99¢: How to Wow! – Great Photography With your smart phone. It's a condensation of day one of the seminar in 35-pages. I really boil it down to the essentials. I tried to write every sentence less than 144-characters because my audience is people who tweet.
Karl: Back to your seminars pre-Covid, were most of them retired baby boomers? Did you get a mix of millennials?
Gary: 90% of the audience were Baby Boomers. Every so often I would get a kid in there, but it was a son of one of my customers. Millennials are not the market that I am attracting.
Karl: We have been at it over an hour. I should wrap up. I do appreciate the interview. Thank you!
Gary: You are welcome. And don't forget to buy my books!  🙂
Questions
Do you have any questions for Gary? Add questions to the comment section below.