Adventures of a Sage—Photography as a Lens for Self-Discovery
Tag: Contests
Back in June, I entered two photos into the Fstoppers Night Photo contest. And in the spirit of 21st century democracy, I asked my Adventures fans to stuff the ballot—I mean vote. Many of you responded enthusiastically, while others simply ignored my request, opting to take out the trash instead. For those loyal enthusiasts who responded, and even for those Adventure fans whose loyalty is waning (the Membership Committee does keep detailed personnel files), here is a summary of the results.
Photo Contests—Worthwhile or Worthless?
On the positive side, entering your photographs into competitions helps bring awareness and recognition of your work. On the flip side, entering photo contests requires time, resources, and occasionally a small entry fee that requires getting a loan on your favorite lens at your local pawn shop. And the probability of anything significant coming out of it, let alone winning, is relatively low. So, are contests and competitions worth the effort?
Judges can evaluate your photographs based on your image's conformity to rules of composition, lighting, and technique. For contests where community members vote, rating scales can be defined for people who have a difficult time counting. But let's face it, the act of judging is always subjective. Can someone else fairly judge your performance—let alone vision and artistic expression? I have struggled with this concept since kindergarten. (It demoralizing to watch your parents place bets as to whether or not you will advance to the next grade each year.)
And then there's the issue that, like every other endeavor in life, photo contests are organized, managed, and judged by human beings. Given that most people think they are geniuses—whereas I think many people need intense psychotherapy—we have a suspiciously divergent starting point.
Fstoppers Night Photo Contest
Fstoppers defines their website as "a community-based photography news website featuring gear reviews, tutorials, industry news, and original articles from professional photographers, videographers, and other creatives." As part of that community, they regularly organize photography contests based on specific themes. I do think that Fstoppers' imaginative contest topics, and the artistic images submitted, can inspire everyone's photography, whether professional or hobbyist. If you're looking for new and interesting concepts to try, click this link to see current and past Fstoppers contests.
When Fstoppers announced a night photo contest in June of 2021, thinking that I had several respectable night shots of Miami Beach's Ocean Boulevard, I reacted impulsively and entered the two photos. Because my night photos were taken with a drone, which was technically a bit of a nightmare to pull off (a separate article forthcoming about this shoot in the future) I thought that maybe, just maybe, I had a chance at recognition, fame, and glory.
Alas, I did not win. Given that the purpose of Adventures of a Sage is self-awareness through the lens of photography, I wanted to share my perspective of this exercise, which can be summarized as: "I was cheated!"
No, wait! That is not the philosophy of Sage Adventures. Instead, I will accept my loss with silent grace, dignity, and personal humiliation—I mean humility, and use the exercise as an opportunity to learn. In that spirit, let's take a look at the night photography competition in more detail.
How Fstoppers' Contests Work
How do the contests work? According to their contest introduction, entrants can "Compete in photography contests with other Fstoppers community members for fun and prizes." Thus, anyone who joins the Fstoppers community can submit images and vote. While the community is described as "professional photographers, videographers, and other creatives," there are no definitive criteria for community membership other than completing an online form and pressing Enter. (Sage Adventure fans who joined Fstoppers to vote for my images are case in point.)
While Fstoppers positions their 'community' as professionals—in reality, any used car salesman with an iPhone can join. (Even used car salesmen without iPhones can join.)
Disclaimer: my board of directors insists that I here insert the following statements: used car sales is a fine profession, I have nothing personal against persons who sell used cars, Adventures of a Sage does not discriminate against the used car industry, and that any complaints thereof can be sent forthwith to my Attorney Bernie.
Fstoppers Contest Rating System
Fstoppers publishes a rating system to guide voting, if you can find it.
1 Star: Snapshot—Snapshots are usually taken to document a time or location but little to no thought has gone into the creation of the image.
2 Stars: Needs work—A photographer who has taken a 2-star image has put some thought into the composition, exposure, and postproduction but for some reason has missed the mark.
3 Stars: Solid—The photographer has a solid understanding of the basics: composition, color, focus, subject matter, and postproduction. A 3-star image is "good" but it's not great.
4 Stars: Excellent—4-star images have almost flawless conception, composition, lighting, subject matter, and postproduction.
5 Stars: World Class—5-star images are flawless and unforgettable. The concept, lighting, subject, location, and postproduction on these images has to be perfect.
Members of the Fstoppers academy carefully consider the nuances of said above rating system, and then score everything either a 2 or 3.
The Winning Photos
Drumroll.  The top five Fstoppers images in the 'Night' contest were:
Photo #1 (The Winner)

Sage Commentary: Can anyone explain to me what this is? A ballet dancer about to be eaten by a lip-sticked monster in a triangular time warp? Frodo in white leotards leaping away from the evil eye of Sauron? It's a Photo-shopped montage of … I'm not sure what, on a black background. Should this have qualified as night photography? I am perplexed and bemused by the winning photo. We're off to a great start.
We continue with …
Photo #2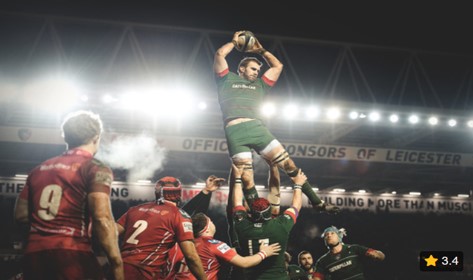 Sage Commentary: Yes, it's a night shot of a rugby match in the UK. Yes, it's technically difficult to freeze the player in motion in such very low light (unless the stadium lights behind the camera illuminate the scene, which is what I think is happening). But the photo is not what it appears to be. While it looks like the player is leaping into the air, ready to spike the ball, his teammates are actually holding him up in the air. Is this great composition with the subject dead-center in the image? The stadium lights in the background distract from the subject, who is overexposed and out of focus. Is this an award-winning night photo, or (based on the scoring criteria) a snapshot?
On to …
Photo #3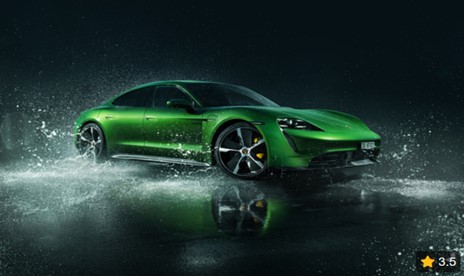 Sage Commentary: Fabulous shot with impressive lighting and technical proficiency. But this is a staged product shot, not what I would categorize as 'night photography.' Apparently, any photo with a black background qualified as a night photograph for the contest. Nevertheless, clearly the work of a professional.
Working our way through the top five …
Photo #4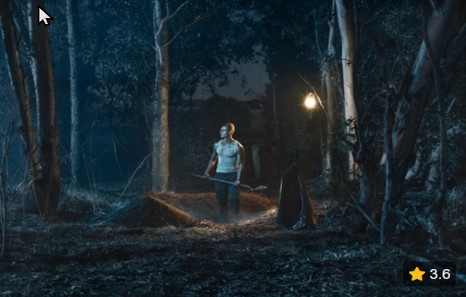 Sage Comment: Another staged shot complete with a model, stylized set, and props. I'm not sure what we're looking at. After careful consideration, I believe this is where non-qualifying extras were buried during Michael Jackson's Thriller video. I do like the lighting. Nice touch with the grave digger's flashlight spotlighting the ground. The moonlight effect from the left is also very nicely done: soft and distant, illuminating full frame. Another composition with the subject again almost dead (how Freudian) center in the image.
Last but not least …
Photo #5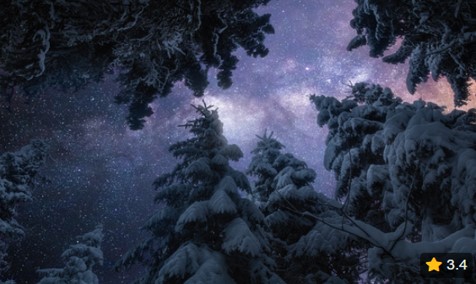 Sage Commentary: Ah, the obligatory star shot. Star shots and star trails are very trendy now. However, I am not a fan because I think they're boring. These images are more about the photographer's technical ability to capture the shot than they are about an interesting subject. Do you consider this image to be interesting?
How Did The Sage's Images Rank?
Curious to understand how my images ranked, I ran a quick statistical analysis.
131 photographers submitted 251 images (1.9 images per photographer).
The community rated each image on a scale of 1-5 (in reality, 68% of all images were rated 2, with nothing scoring a 4 or 5).
Scores calculated to one decimal place.
I created a frequency distribution table ranked by the unique individual scores and then did a rough quintile analysis (whereby the rankings were divided into fifths).
251 images ÷ 5 = 50.2 images per quintile. Because the cumulative number of images in each quintile never exactly matched 50.2 images, I used the closest number to calculate the quintile breakpoint. Sometimes that was as close as 53 or as distant as 36. (Such is life with a small sample size.)
Night Photo Scores
Quintile Analysis
| Scores | Number of Images | Quintile |
| --- | --- | --- |
| 1.3, 1.4, 1.5, 1.6, 1.7, 1.8, 1.9 | 43 | 1 |
| 2.0, 2.1, 2.2 | 60 | 2 |
| 2.3, 2.4, 2.5 | 57 | 3 |
| 2.6, 2.7, 2.8 | 53 | 4 |
| 2.9, 3.0, 3.1, 3.2, 3.3, 3.4, 3.5, 3.6 | 36 | 5 |
Based on this analysis, my image that scored 2.4 ranked in the third quintile (average).
Mangos on Ocean Drive
Score: 2.4 / 3rd (Average) Quintile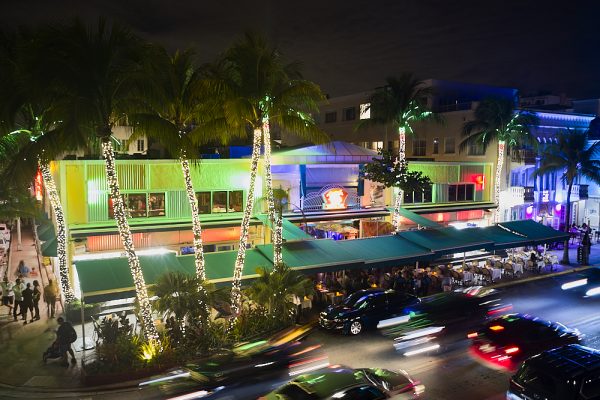 … while my 2.7 image scored in the 4th quintile.
Breakers on Ocean Drive
Score: 2.7 / 4th (Above Average) Quintile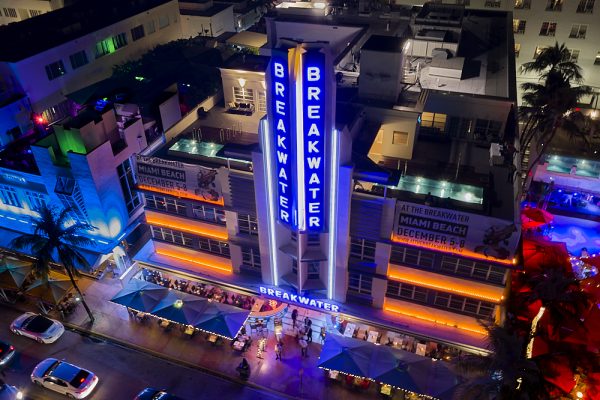 There you have it: the results of Fstoppers night image competition. Click this link to see all of the images submitted. To see Fstopper's official review of the top five images click here.
Self-Discovery & Lessons Learned
What did I learn from this contest?
I sincerely have deep respect for anyone attempting to earn a living as a professional photographer. Competition is intense. Critics abound. Compensation is elusive.
This experience reinforced my opinion about contests in general: Scoring was random without much consideration for the actual criteria. I would have preferred to receive a thoughtfully considered critique.
Questions
What's your take on the top five photos of this competition?
Have you entered any photo contests? What did you learn from the experience: about yourself, the competition, or your competitors?
Do you think creative work can be accurately evaluated?
Based on this article, are you inclined to enter photo contests in the future? Why or why not?
Denouement
Thank you for being a loyal Sage Adventures fan. Please share this journal entry using one of the icons below (Share This Story, Choose Your Platform.) Please also share any comments you have about this post. It only takes a minute, and I would appreciate hearing from you.
Up Next