Adventures of a Sage—Photography as a Lens for Self-Discovery
Tag: Biographical Profile
It's Been a While
I can't believe it has been three, four, five, six months since my last Adventures of a Sage article. I am haunted by one of the things I wrote in my first article, 0001 Introduction—Early Morning Musings, "Over 95% of blogs have been abandoned."
As I confront the keyboard anew after these many months, I am reminded of Glenn Frey's quote announcing the Eagles 1994 Hell Freezes Over tour: "For the record, we never broke up; we just took a 14-year vacation." In a similar tone, I would like to state that I have not abandoned the blog. I simply took a long hiatus.
I try hard to dedicate at least one day a week to write, and that's 5 a.m. Saturday morning when I can get a solid 3-hours in. Occasionally, when I'm similarly inspired to get up at 5 a.m. during the week, I'll write on weekdays. That's more of a rarity because, at this point in life, I'm still working full-time along with three other business partners in a business. Waking up at 5:00 a.m. requires a unique skill set, because most days I can barely drag myself out of bed when the alarm goes off at 7:00.
The Christmas holidays significantly disrupted my writing rhythm. And, after I got out of my writing rhythm, then I got lazy. Every Saturday at 4:45 a.m. I looked at the clock, thought about writing, and then just rolled over. Then, on Saturday, April 16th (and that was two months ago) I awakened at 5:00 a.m. and decided that I had to get at it again.
Intimidation of Creativity
It was more than laziness. Because Adventures of a Sage are about self-discovery, deeper confessions of self-discovery must be confessed. What kept me from my journal writing was lack of inspiration more deeply rooted in fear of creativity. I lacked ideas. It was easier to hide under the covers than face uncertainty of the hostile, glowing LCD screen of my Surface Pro, sitting at the kitchen table, in the dark, at 5:00 a.m.
There is a wonderfully insightful (but difficult to read) book written by Steven Pressfield, about the writing process. (Steven wrote The Legend of Baggar Vance, among other well-known works.) Titled The War of Art—Break Through the Blocks and Win Your Inner Creative Battles, the book is about the act of overcoming Resistance. Steve writes in the beginning …
"There's a secret that real writers know that wannabe writers don't, and the secret is this: It's not the writing part that's hard. What's hard is sitting down to write. What keeps us from sitting down is Resistance."
I recognized that Steve is right: the fear of overcoming Resistance was keeping me under the covers. Resistance attempts to block each of us from achieving our goals on our individual paths to self-discovery. Attempting to overcome such Resistance and making a commitment to action through creativity is one of the reasons I created Adventures of a Sage. So here's my advice: get out from under the covers! Even if it's only 10:00 a.m.!
I'm sure many of you have similar stories of overcoming Resistance. (An opportunity to share?)
Back on point …
Who is Ed Vaughan?
For some time now, I have been thinking about dedicating an article to Ed Vaughan. Ed was a unique character who unquestionably lived a life of self-discovery—some of which can't be discussed in a public forum like this. (Anyone who knew Ed, knows what I'm talking about.)
For this tribute, suffice to say that Ed was a fellow sailor, creative, and photographer. I felt a strong affinity with him for all these reasons.
Fellow Sailor
I met Ed at anchor when, in a former life, I lived in Seattle and owned a 42-foot Hallberg-Rassy sailboat which I named Andante. (You can read about the voyages of Andante here.) On one of my sailing trips to Desolation Sound, I was trying to anchor (emphasis on "trying") when another cruiser, already resting peacefully at anchor, started shouting instructions from his cockpit. Thus, began a decades-long friendship with Ed Vaughan.
By the time I met Ed, he was an accomplished sailor—having already completed two circumnavigations on his steel-hulled sloop, Mas Alegre (More Fun).
I speak of Ed in past-tense because, alas, he died unexpectedly in Phuket, Thailand, on October 25th, 2018, after a short illness. I am very happy that Ed and I had a Skype video call just three months prior, which started as follows:
Ed had created a website of his sailing voyages called Oceans Above and Below. Unfortunately, his website is no longer active. However, thanks to the Wayback Machine (a massive repository of obsolete websites) you can see Ed's website site as it looked in 2019 before it was taken offline. (For those of you who have been around awhile, you may recall that the original WABAC Machine was from the 1960s Rocky and Bullwinkle cartoon.)
It's true: I remember cartoons from the 1960s.
Fellow Creative
During our friendship, Ed regaled me with stories about his 25-years as a Hollywood television and movie producer. His most notable project was a screenplay concept that became The Spitfire Grill. Ed is listed as co-producer on Spitfile Grill's full Cast & Crew page, with his additional television and movie production credits listed on IMDB here.
Ed's tales about Hollywood reminded me (a lot) of my early career in the advertising industry, and later in software technology. So much so, that I pitched Ed on the idea of writing a book together. I envisioned the title as: "Twenty Important Lessons from Hollysoft—reflections on personal and professional concepts gleaned from the world's of high-technology and entertainment." While I envisioned this book as an international best seller, Ed had zero interest in the project. (Ed, I still have the outline in case you change your mind.)
Ed Vaughan Plays Flamenco Guitar
Before Hollywood, Ed was an accomplished flamenco guitarist.
Surfer Girls
Little surfer little one
Make my heart come all undone
Do you love me, do you surfer girl?
Surfer girl my little surfer girl
Some of you recognize the above lyrics from The Beach Boys song, "Surfer Girl." The segue? As a teenager Ed was part of the original Malibu surfing scene, which he wrote about here on Surfwriter website. To get the full picture of my tribute to Ed, I urge you to read it if you can make time—his article provides insights into Ed's personality, creativity, humor, and motivations, along with some of his foibles. Personally, I have no minor foibles—preferring to err on the side of significant character defects.
Ed describes the 1960s Malibu surfing community through the filter of a teenager who wanted to be accepted, but as someone who never made it into the inner circle. (Fascinating how the trials of adolescence shape our psyches and thus frame our lives.)
I'm in awe of Ed's ability to remember the names of people who formed these various circles. I think I can recall one or two names of high school girlfriends, but only after an open book test perusing multiple high school yearbooks.
Ed's article gives you wonderful insight into his creativity and humor when he describes encountering two photographers from Life Magazine walking the beach, fully clothed ("they even had shoes") and "covered with camera equipment."  "Hi, my name is Alan Grant and we're from Life Magazine. We're doing an article on surfing, can you help us? What you guys do when there's no surf."
Ed immediately stepped into the opportunity. "So, during the next two weeks, I created totally imaginary events that we surfers supposedly did while the surf was small."
Mugging for Life Magazine in 1961
Jumping from the pier for Life Magazine. Ed is right there in the middle.
This September 1st, 1961 issue of Life Magazine became one of the first national profiles of California surfing culture. That issue also featured featured Jackie Kennedy as First Lady on the cover. (The apparently need some filler.) The photographic essay appears on page 47 titled, "The Mad Happy Surfers: California 'Hot Doggers' Enjoy a New Way of Life on the Wavetops." See the actual article within the pages of that September 1st issue here.
(When the link opens, use the vertical scroll bar on the right to browse the entire magazine. As a former Mad Man, I love the 60s print ads for Bell Telephone, Philip Morris, Sears, Kellogg's Rice Krispies, Sanka, Royal Typewriter, and more. Incidentally, on page 40 in the same issue, within the "Newsfronts" section, there is a paragraph titled "Plague Comes out of China.")
Fellow Photographer
I mentioned that Ed was also a fellow photographer. He carried a Hasselblad 500elx medium format camera, a Nikon F2AS, and a Panasonic HVX202AEN video camera with him on Mas Alegre, along with several lenses and an Australian SeaTite underwater camera housing. Keeping such delicate camera gear free of rust while cruising the world's oceans would have been impossible. (Click here for more about his camera gear.)
Ed told me a story of seeing what he described as a "baby shark" while scuba diving in the Pacific with his Hasselblad. As he descended deeper into the ocean, he soon realized that he was not looking at a baby shark, but rather an adult 12-foot+ Tiger shark that appeared deceptively small in the crystal clear waters almost 90-feet below the surface. Upon realizing his mistake, Ed started a slow, quiet, ascent—whereupon the Tiger shark immediately took interest and methodically followed him up, face-to-face, at a harrowingly close distance.
After throwing his Hasselblad onto the deck and jumping out of the water in full scuba gear, his girlfriend sailing companion informed him that while he was focused on the Tiger in front of him, there was another Tiger hovering the same distance at his back. One of those life-defining moments.
Below are several of Ed's photographs from his Oceans above and Below website:
Spotted Eagle Rays 
Spotted Eagle Rays shot in Hawaii, off the coast of Maui, in about 180 feet of water.
|
Madagascar
Goat hunters on a small island off the west coast of Madagascar in 1990.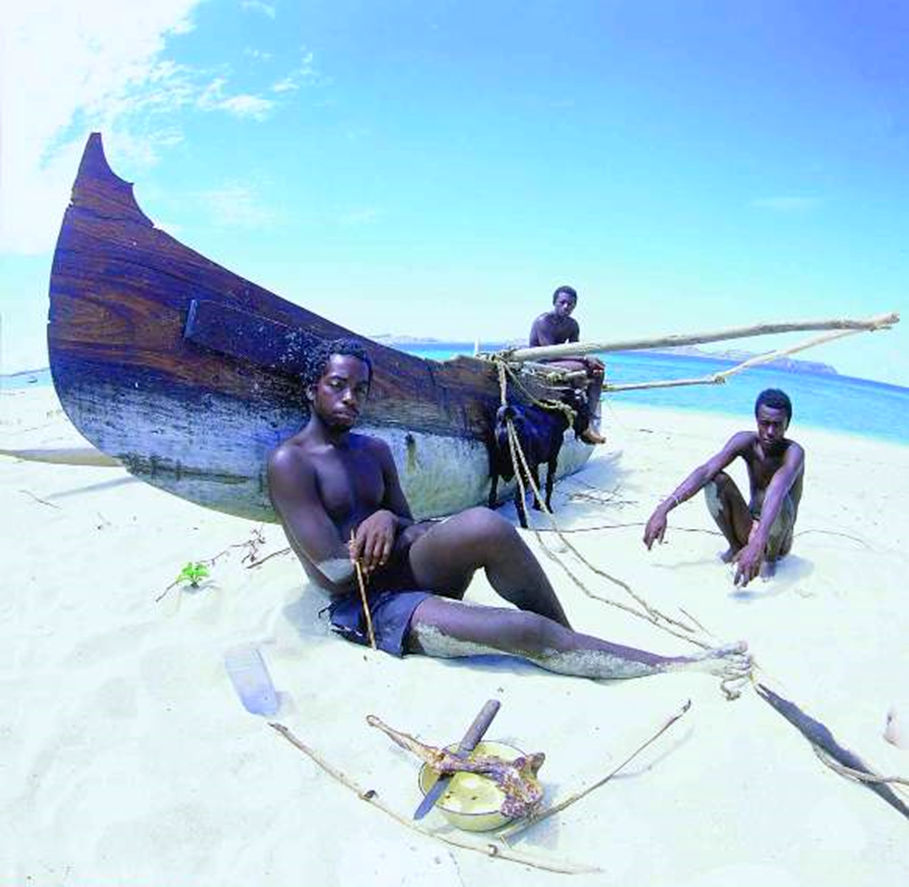 |
Madagascar Anchorage
Mas Alegre anchored in Maramba Bay, Madagascar.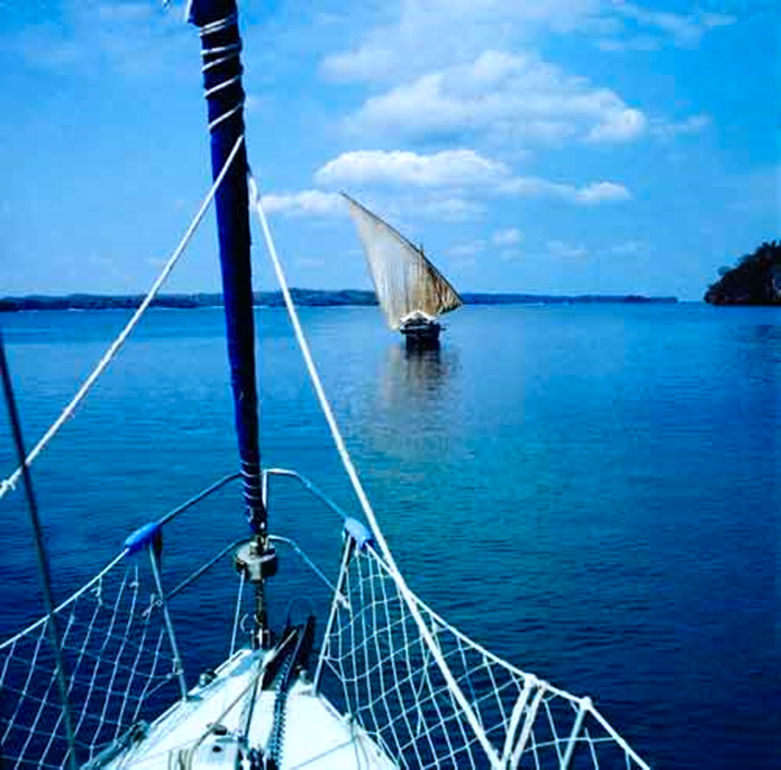 Denouement & Post Script
I hope you enjoyed this tribute to my friend Ed Vaughan.
I would like to thank Malcom Scott in the UK for assisting me with information about Ed after his passing, as well as providing me with the Wayback Machine link to Ed's previous website. Malcom also lived in Thailand from 2017~2019, when he befriended Ed in Phuket. You can read Malcom's tribute to Ed here.
Ed's son, Dusty, is now 9-years old, living in Phuket with his Thai mother.
Thanks for Being a Loyal Adventures Fan
As always, thank you for being a loyal Sage Adventures Fan (with all of the rights to which you are entitled by membership).
Please consider:
Using the icons below to share Adventures of a Sage with anyone who would like to participate in self-discovery through the lens of photography.
Posting a comment about my tribute to Ed.
I am already off to create The Sage's next adventure post! Resistance, get thee hence!